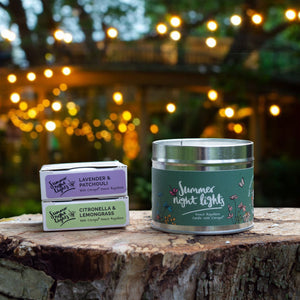 Summer Night Lights Insect Repellent Essential Oil Candle
Citronella + Lemongrass Candle Hand Poured with Coconut & Rapeseed Wax
Perfect for ensuring your long summer evenings remain bug free, our new Summer Night Light collection will provide the perfect scented backdrop to summer entertaining. Lovingly created to be used indoors and outdoors, these natural candles, featuring a beautiful rapeseed and coconut wax have been infused with the finest environmentally friendly essential oils and Citrepel®- a naturally derived ingredient from essential oils, proven to repel insects
Available in two scents, these natural candles will be the perfect backdrop to your summer plans. The full collection comes in Tealights, Botanical Wax Melts and Tin Candles.
Citronella & Lemongrass:
The ultimate fresh scent that's perfect for summer, our beautiful Citronella and Lemongrass essential oil candle, made with Rapeseed & Coconut wax, will fill your home and garden with botanical bliss. Featuring essential oils such as Lemongrass, Citronella and Lime, this fresh scent will provide the perfect backdrop to those hot summer days and nights.
Perfect for indoor or outdoor burning, this candle also features the natural insect repellent Citrepel, ensuring your summer time fun won't be interrupted with pesky insects.
Ingredients: 
Rapeseed & Coconut wax melt blend
Cotton Wick
Essential oils
Burn Time: 
40-45hrs of slow burning scent release. 
Where to use: 
Our Summer Night Lights collection has been carefully created to provide indoor or outdoor enjoyment.