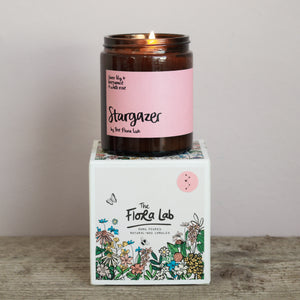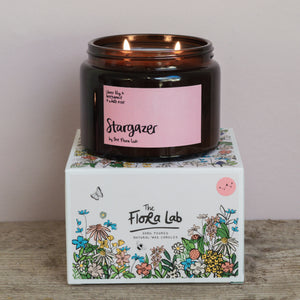 Stargazer Coconut & Rapeseed Wax Candle
Sheer Lily + Bergamot + White Rose
A floral fantasy that's out of this world. 
Lovingly intertwined, fresh sheer Lily and delicate white Rose petals, along with a sprinkling of peach, results in Stargazer; an ethereal delight for the senses. 
Top Notes:

 

Bergamot, Plum, Peach, White Rose

Middle Notes

: Lily, Rose, Ylang, Jasmine 

Base Notes:

 

Cedar, Sandalwood, Amber, Musk
What we think: 
Stargazer is for all those who dare to dream.
 Burning Advice, Product Information & Ingredients: 
When to burn:
Due to the delicate nature of the florals, we would recommend burning Stargazer in the day, before continuing on to the night. 
Ingredients 
Rapeseed & Coconut Wax 
Luxury Perfume Oils
Cotton Wick 
Safety Information:
Never leave a burning candle unattended. Keep out of reach of children, animals and any flammable materials. Don't move a burning candle, as both the jar and the molten wax will be hot and could cause injury. 
Do not burn when there is less than 15mm wax left in the candle jar. The candle jar may get hot on the final burns, as the flame moves down the jar. Always trim your wick to 5mm before lighting. 
Ingredients: 
May cause an allergic skin reaction. Harmful to aquatic life with long lasting effects. Keep out of reach of children. IF ON SKIN: Wash with plenty of soap and water. If skin irritation or rash occurs: Get medical advice/ attention. Dispose of contents/container to approved disposal site, in accordance with local regulations. Contains Acetyl cedrene, Cedrol methyl ether, Coumarin, Formaldehyde cyclododecyl ethyl acetal, Hydroxycitronellal, Isoeugenol, Linalool, Tetramethyl acetylocathydronaphthalenes.Never leave a burning candle unattended. Always use responsibly. 
Customer Reviews
08/23/2023
David W.

United Kingdom
Fabulous fragrant candle
Love the unusual and delicate fragrance of the Stargazer candle - a favourite in our household!
11/22/2022
Lucy P.

United Kingdom
Excessive packaging
The candle is nice. As a company that markets its products as compostable, sustainable and recyclable I was appalled at the amount of packaging and waste that arrived with the candle. The box was about 5/6 times the size of the candle and filled with 3 excessive pieces of paper - the leaflet, the receipt which had already been emailed to me and a large piece of white paper. The biodegradable peanuts also seem like an excessive use of energy, especially when needed to fill a box that is already too big. I am posting this publicly because I emailed the company two weeks ago and have received no reply.