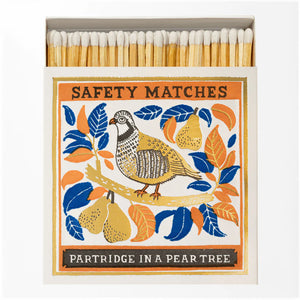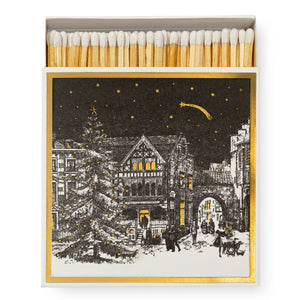 Single Wicked Candle & Luxury Letterpress Match Gift Box
The perfect gift for candle lovers everywhere: a hand poured natural-wax candle accompanied by a gorgeous stylish letterpress Match Box. 
All of our candles are lovingly put together here at Flora Lab HQ and feature a hand tied cotton ribbon to ensure the perfect present. If you want to pop in a complimentary gift note, please drop a note to us at checkout. 
Each match box contains ~125 long handled matches. 
Please bear in mind, with our matches, we also sell in real time at local markets, so we may not have your chosen design in stock (despite it showing here). If this does occur, we will reach out to you with what replacements we have available. 
Each Gift Box contains: 

1 x 180ml seasonal candle 
1 x Letterpress printed match box 
Recyclable gift box 
Hand tired with a black cotton ribbon. 
Sustainability is at the heart of what we do here at The Flora Lab. Each gift box is created using responsible materials, which can either be re-used (our preference) or recycled. 
All safety information per candle can be found on each individual page for the candles.