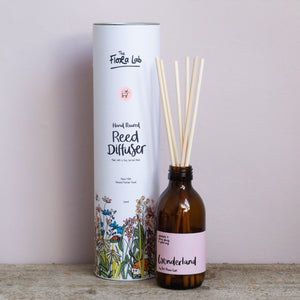 Wonderland Diffuser With Natural Rattan Reeds
Jasmine + Ylang Ylang + Green Ivy
A winter floral fairy tale that's delicate and enchanting
During the winter season, there's a magic in the air. It's a time when we learn from the past and dare to dream for the future. Wonderland captures the essence of hope that can be lost during the busy rush of our day to day lives. With notes of Jasmine, Ylang Ylang and Ivy, this candle should put a sparkling spell over the winter months. 
Notes 

Top Notes: Mandarin, Ivy
Middle Notes: Balsam, Jasmine
Bottom notes: Ylang Ylang, Coconut
Ingredients. 
Luxury Perfume Oils
Soy Derived Diffuser Base Oil
6 unbleached natural rattan reeds
Each diffuser tin should provide 2-3 months worth of scent. 
Safety Information: 
If spilled, immediately clean up to avoid damage to furnishings. Keep out of reach of children. Wash hands and other contacted skin thoroughly after handling. Read label before use. Wash hands and other contacted skin thoroughly after handling. IF IN EYES: Rinse cautiously with water for several minutes. Remove contact lenses, if present and easy to do. Continue rinsing. Collect spillage. Dispose of contents/container to approved disposal site, in accordance with local regulations